Amelia Island 2014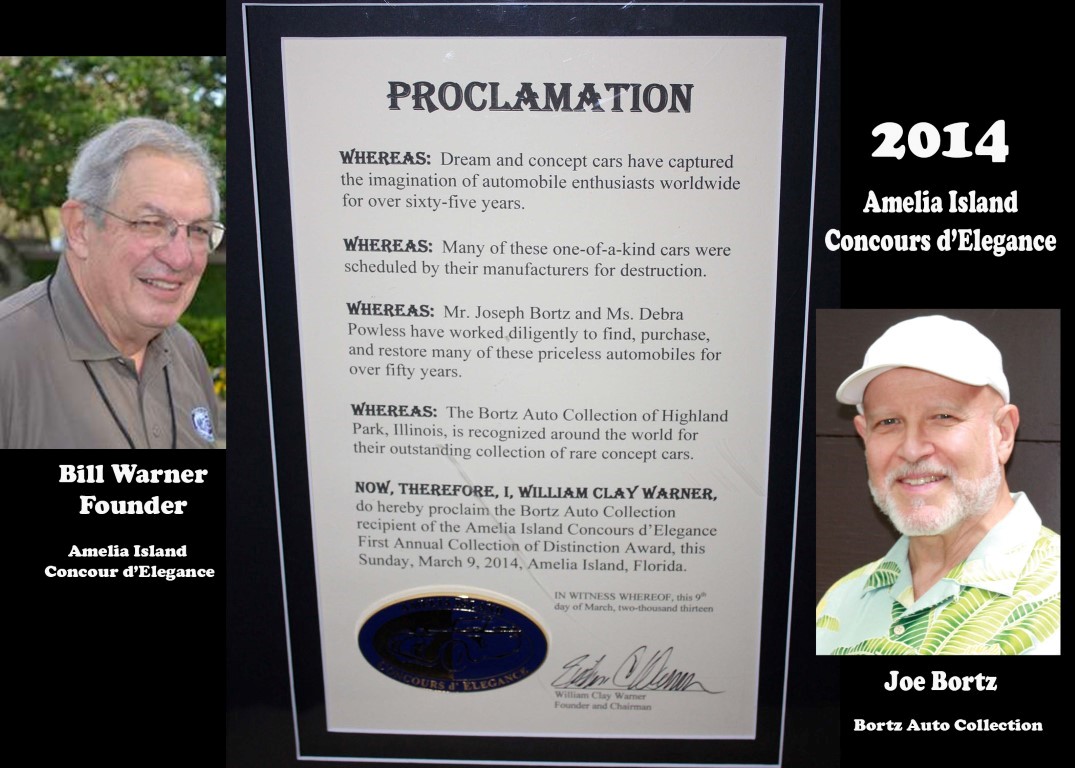 THE BORTZ AUTO COLLECTION IS EXTREMELY PROUD TO RECEIVE THE FIRST PROCLAMATION EVER GIVEN OUT BY AMELIA ISLAND CONCOURS D'ELEGANCE/BILL WARNER WHICH WAS RECEIVED IN MARCH 2014.
TO SEE THE VIDEO OF THE AWARD PRESENTATION AT AMELIA ISLAND 2014 CLICK ON LINK BELOW.
Proclamation Award by Bill Warner Click here.
"Great news and long overdue recognition for a person with great passion for the
cars….. Not to mention being willing to spend huge sums of money to bring
these rare vehicles to enthusiasts everywhere".
Larry
Larry Faloon, former General Motors executive and great friend to the Bortz Auto Collection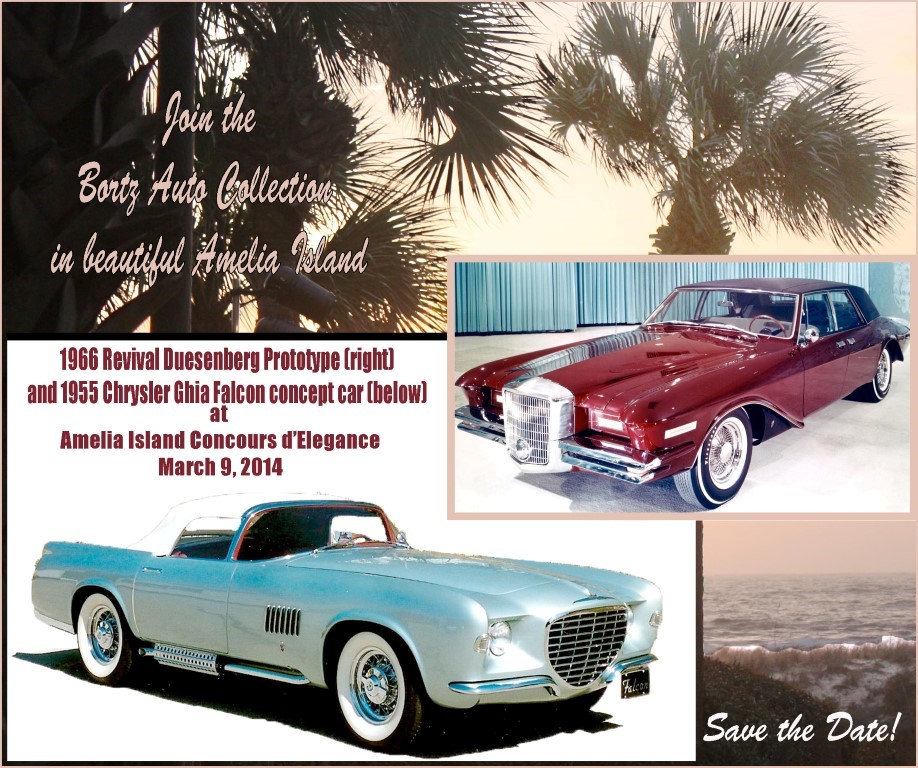 BORTZ AUTO COLLECTION TO DISPLAY AT AMELIA ISLAND CONCOURS D'ELEGANCE
Click here.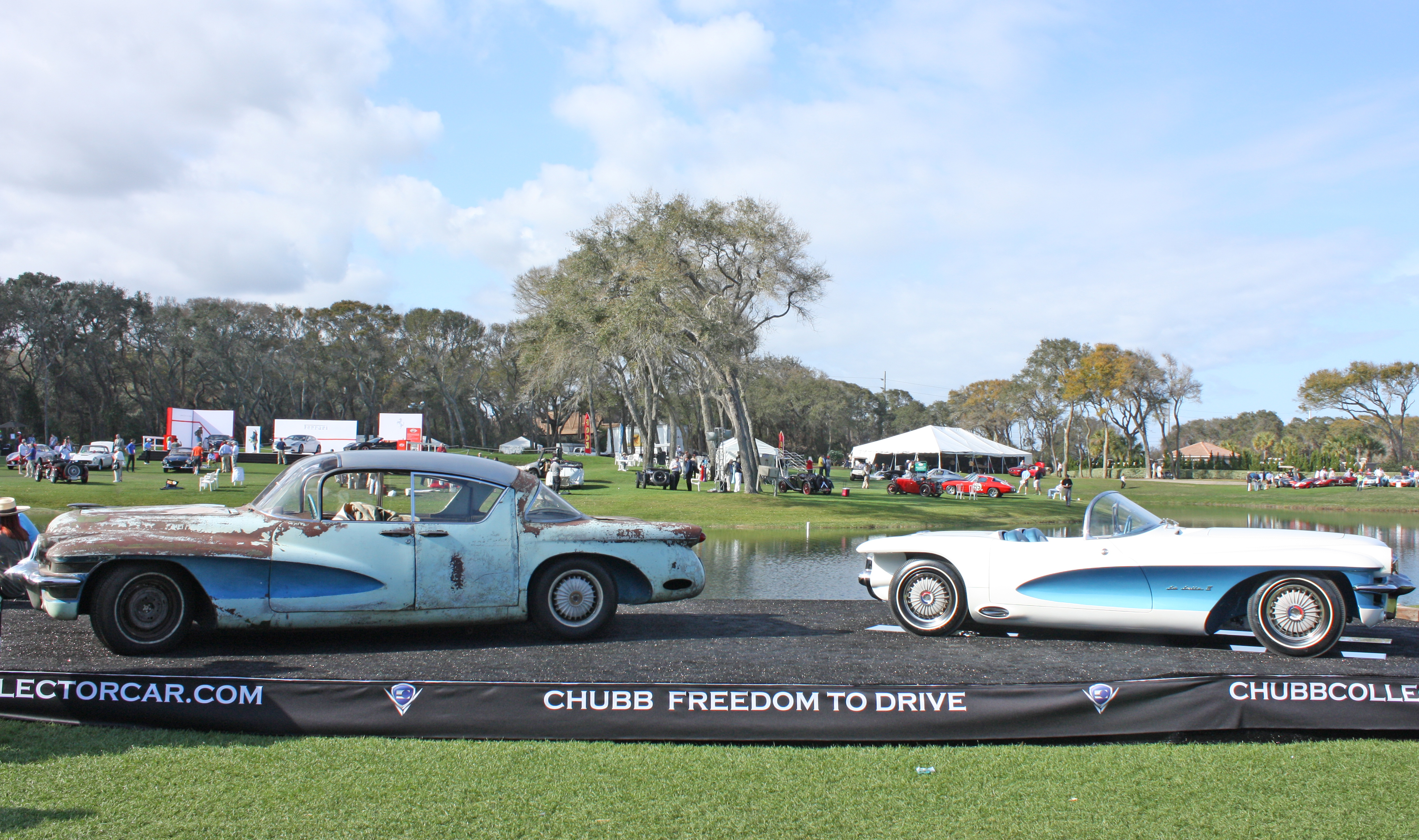 Concept Cars Shining Anew by Dan Scanlan, Jacksonville News, March 9, 2014 Click here.
1955 Chrysler Ghia Falcon Video Click here.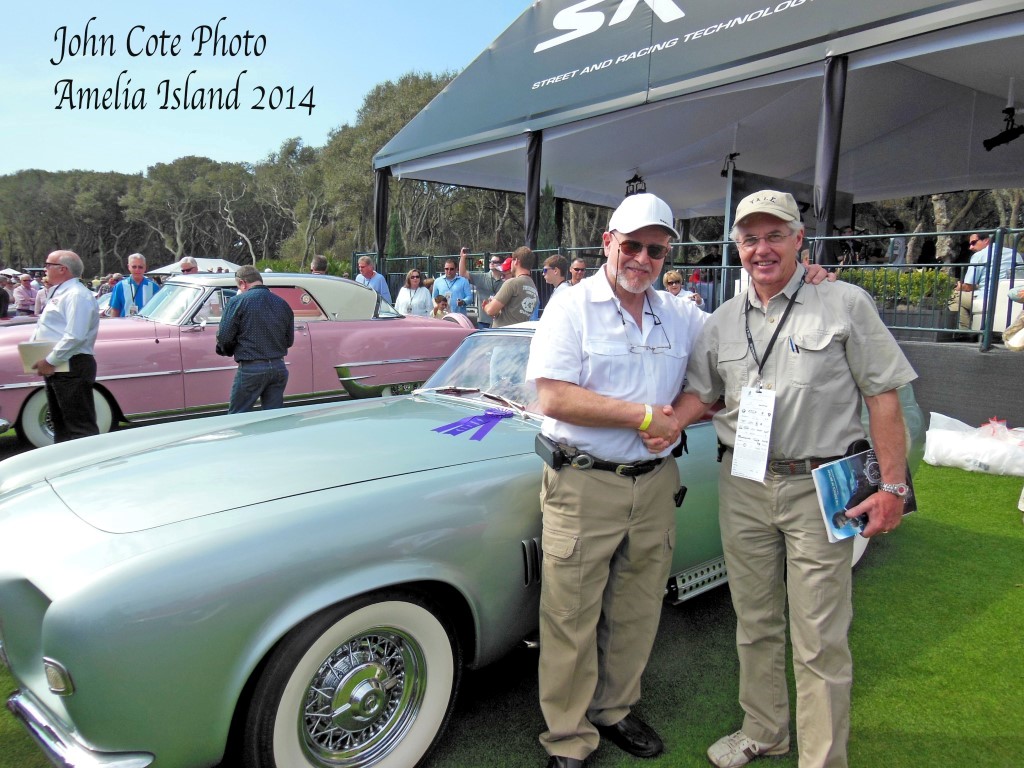 Joe Bortz & John Cote (famous post-war collector) at Amelia Island 2014
Our friend Mike Barbour, renowned car wrangler wrote:
Thank You Joe, For everything and especially the video, great job, great car and a great experience for me, many thanks to you, Al, Marty and the girls and in case you did not hear I love your light bulb story, it says a lot about you and I feel exactly the same way about preserving such important items. You do the world, not just the antique car world, a great service and have for longer than I have known what a show car, dream car or concept car was. I remember the first two real factory concepts I ever saw in person, it was about 1968, at the Virginia state Fair, the Mako Shark II and a Camaro show car that has only been unearthed fairly recently, can't remember the name right now. I fell in love with the idea and still am. I had always been intrigued by the photos in magazines but thought they were all so far away I'd never see a real one again and then there you were, in Virginia Beach with the Bonneville and the Wildcat. I remember watching you drive the Buick across the street, what a thrill, excites me still! Thanks to you, I can now say I've lived a dream, I got to drive a real dream car and meet the man that owns one (Many), it was a great thrill!
Thanks!  Mike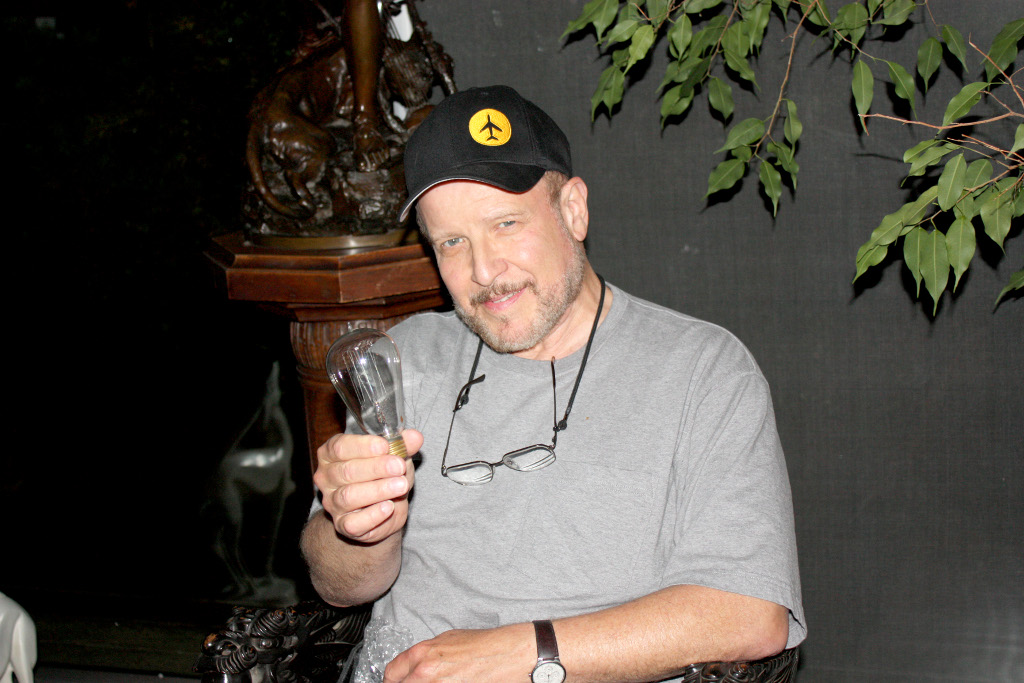 Lighting the way by Joe Bortz, Old Cars Weekly, March 27, 2014. Click here.