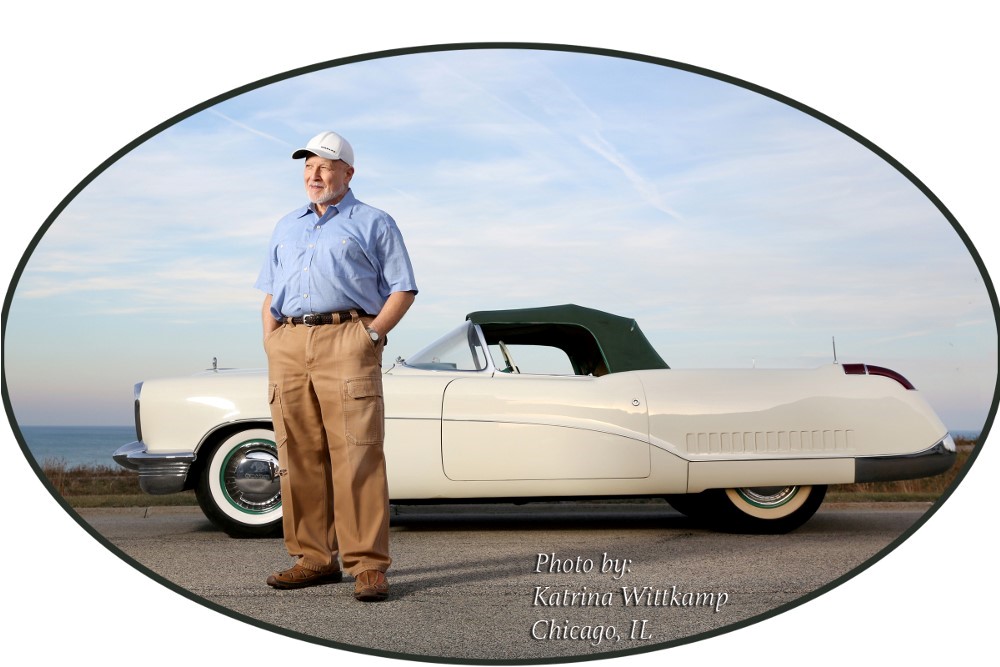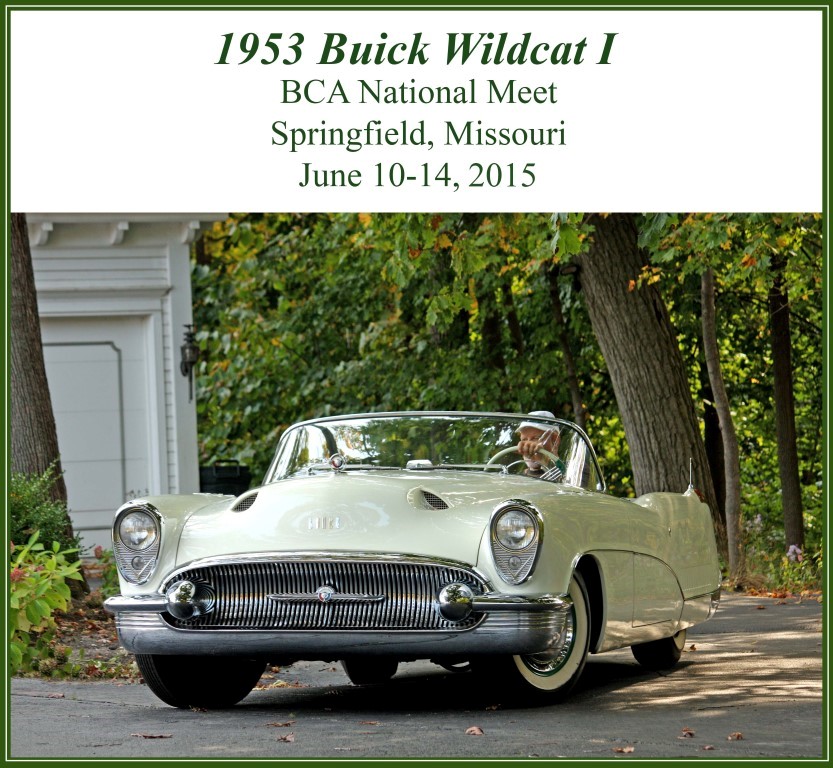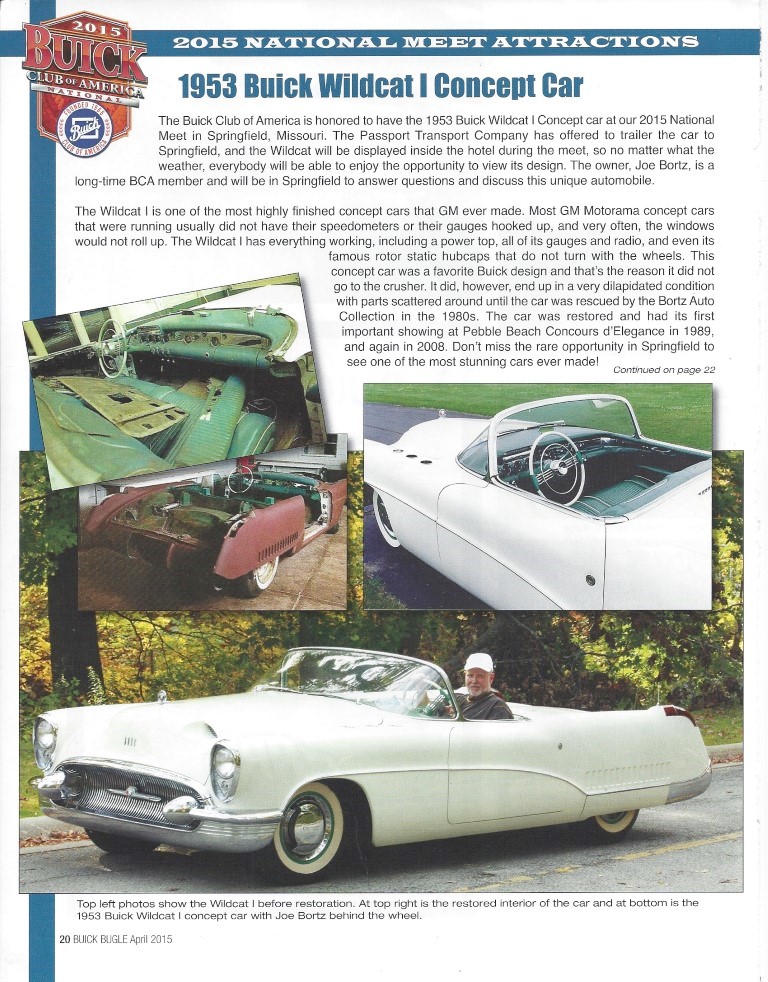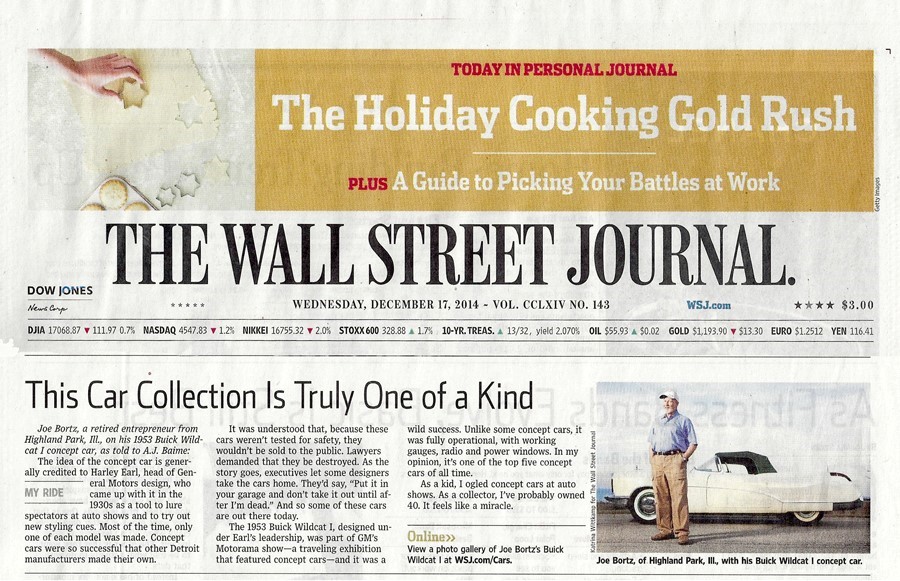 See the complete article with many more photos –
Buick
Wildcat I to highlight next year's Buick National Meet
Daniel
Strohl at 8:59 am   November
28, 2014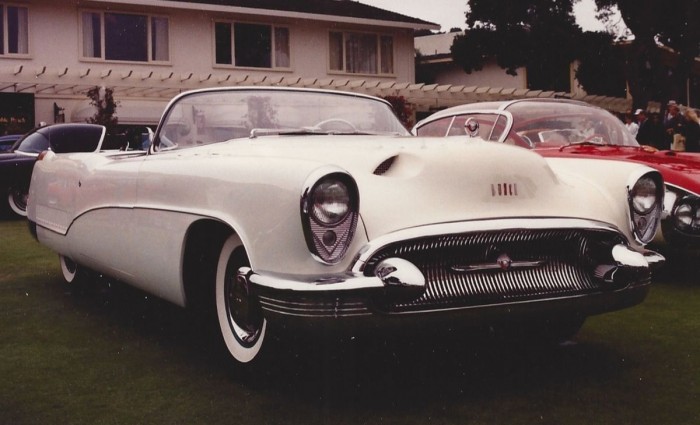 Photos
courtesy Joe Bortz.
More
radical concept and dream cars would come along with exotic
drivetrains, impossible bubbletops, technology out of sci-fi comic
books, and outer-space styling, but few showed a more precise vision
of the immediate future than the 1953 Buick Wildcat dream car. While
that future has long since passed, the Wildcat remains around today
and will go on display at next year's Buick Nationals.
Perhaps
because it was designed and built under the supervision of Buick
chief engineer Ned Nickles and not under the supervision of an
advanced styling studio, the two-seater Wildcat – which Buick
introduced at the inaugural 1953 Motorama show at the Waldorf-Astoria
Hotel in New York City alongside the Chevrolet Corvette, Pontiac
Parisienne, Oldsmobile Starfire X-P Rocket, and Cadillac Le Mans –
showcased a little more restraint in its styling. Its wraparound
windshield had already seen limited production on the Cadillac
Eldorado and Oldsmobile Fiesta; its proto-tailfins hardly rose any
higher than those introduced by Cadillac four years prior; its 188hp
322-cu.in. V-8 was new for 1953, but no more powerful than that in
the production Buick Skylark; and its general styling would go on to
appear on 1954 Buicks.
The big
advancement on the Wildcat – the one that Buick made so much
ado about in its press materials and Motorama brochures – was
its fiberglass body, but even that was shared with the Corvette and
Starfire X-P. Buick noted that the use of fiberglass shortened the
amount of time it took for a car design to progress from sketch to
production and "afford(ed) an opportunity to 'pre-test'
the motorists' reaction to various styling features."
Indeed, as David W. Temple wrote in his book GM's
Motorama, styling studios were
just beginning to make use of fiberglass at about that time, and
Chevrolet executives had intended to put the Corvette into production
with a steel body until the demand created by showing it at the
Motorama led them to scratch that next step and go ahead with a
fiberglass body.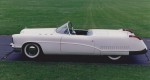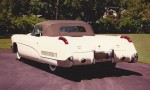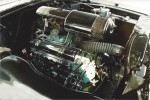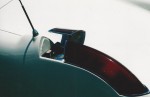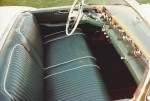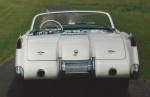 And
perhaps because the concept seemed so grounded, not only did Buick
appear to build two Wildcats, executives in Lansing also considered
putting the Wildcat into production. The first Wildcat – which debuted
at the Waldorf-Astoria painted black,
but then appeared a month later in Miami and thereafter painted white
– used covered rear wheels and a convertible top that
disappeared under a hinged lid behind the seats; but photos of a
second white-painted Wildcat show it with a hardtop and Skylark-style
rear wheel openings. Then, as Temple noted, Motor Trend reported that
– after the Corvette, which had already been slated for
production before the Motorama – the Wildcat would be the next
1953 Motorama car to reach production, though bodied in steel. One
can only presume that, when it came to halo cars, the Skylark
sufficed for Buick customers and executives.
Buick
would follow up the Wildcat with the Wildcat II and Wildcat III show
cars (leading many to refer to the original as the Wildcat I) and,
according to collector Joe Bortz, put the 1953 Wildcat out to pasture
by either selling or giving it to one of the designers who worked on
it. That designer then sold it to a collector in Detroit, "who
never did anything with it," Bortz said. "It was very
rough. The windshield was off the car and twisted like a pretzel, and
it was all apart."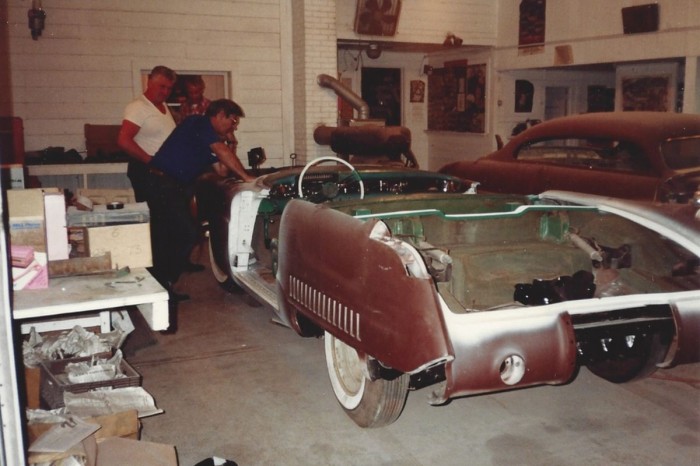 Still,
almost everything unique to the car – including the heavily
chromed, porcelainized, and smoothed V-8 engine, its original
interior, and much of its trim- remained with it, so Bortz bought it
in about 1985 or 1986 and commissioned a full restoration, which
wrapped up later in the 1980s.
As for the
second Wildcat, Bortz noted that one theory holds that Buick only
made one Wildcat and that the open-wheel hardtop version preceded the
closed-wheel convertible version. However, he said that during the
restoration he never saw any evidence that the skirted area over the
rear wheels wasn't original to his car. In addition, while he
only had one of the two Roto-Static stationary hubcaps unique to the
Wildcats when the restoration on his began (he had a second
replicated), several years later another enthusiast approached him
with a matching pair of Roto-Static hubcaps, reportedly found in the
1960s in a Detroit-area junkyard.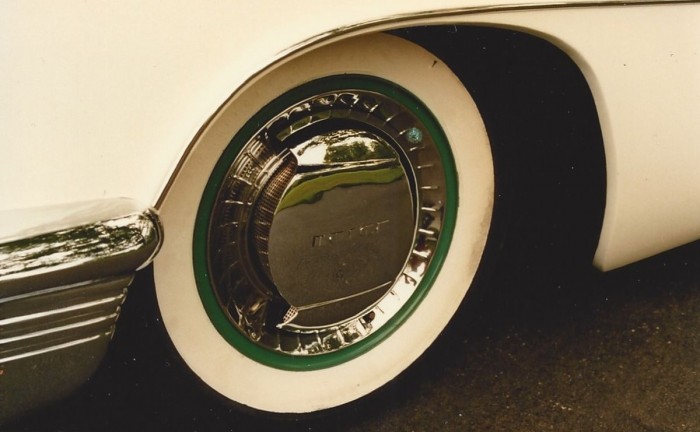 Since
restoring the Wildcat I, Bortz has showed it at a number of events,
including the 2008 Pebble Beach Concours d'Elegance, the 2010
Meadow Brook Concours d'Elegance
and the 2013
Geneva Concours d'Elegance.
Next year, he plans to show it once more at the 2015 Buick Club of
America National Meet, which will take place June 10-14 at the Ramada
Plaza Hotel in Springfield, Missouri. For more information on the BCA
National Meet, visit BuickClub.org.
In
addition, Bortz said that he will display his two Motorama La Salles
and the Brooks Stevens-designed Valkyrie at the Cadillac and LaSalle
Club's Grand National, which is scheduled to take place June
24-27 in Brookfield, Wisconsin. For more information on the CLC Grand
National, visit CadillacLaSalleClub.org.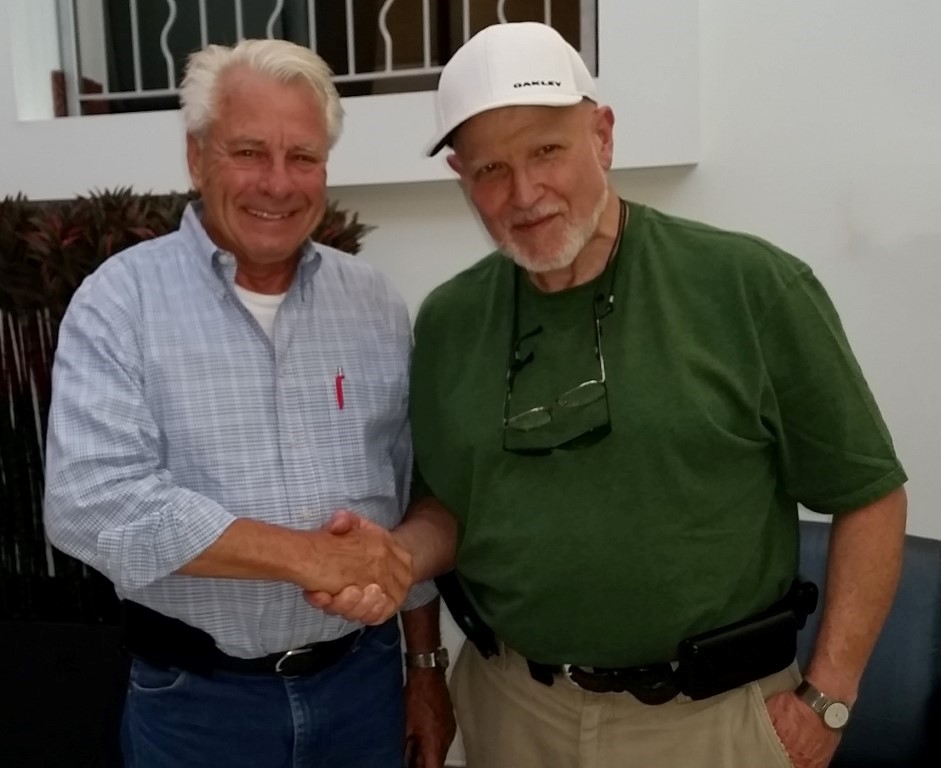 Dick Heiderich and Joe Bortz talking at the Buick Club of America 2015 National Event.