Copyright 2013, Bortz Auto Collection, All Rights Reserved
Images may not be copied, printed or otherwise disseminated without express written permission of Bortz Auto Collection.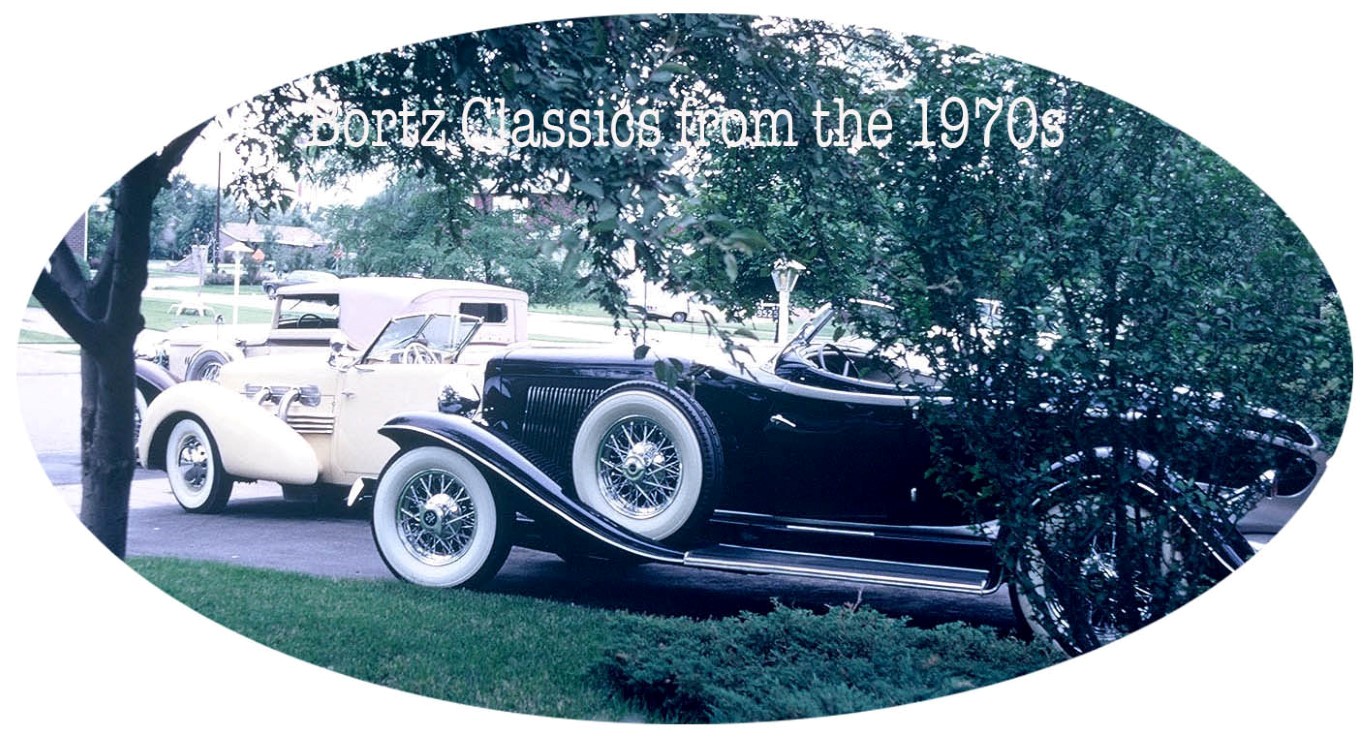 Joe has owned some exciting cars during his fifty years of collecting. Here are some of the cars that were part of the Bortz Auto Collection for many years.
Click on any image for a larger photo or more photos.
| | | |
| --- | --- | --- |
| 1959 Chrysler Imperial | 1954 Hudson Italia | 1970 Dodge Diamante Hemi |
1965 Mercer-Cobra Roadster

1955 Mercedes 300SL
Gullwing

1954 Packard Panther

1954 Dodge Firearrow Coupe

1954 Pontiac Club DeMer
-3/8th scale

1951/52 Buick Harlow Curtice
SWB Limo

1954 Mercury XM800

1956 Chrysler Plainsman

1950 Buick

1964 Dodge Charger Prototype

1961 Pontiac Monte Carlo

1962 Facel Vega Mark II

1936 The Robert Hall McCormick
Packard Dual Cowl Phaeton

1953 Chrysler Ghia Thomas
Special

1958 Cadillac Eldorado Brougham

1956 Nash

Victress

1954 Dodge Firearrow Roadster

1957 Pontiac Bonneville

1913 Regal Underslung Coupe

1903 Columbia Electric

Joe Bortz and 1957 Cadillac Eldorado

1929 Mercedes SS Mit Blower

1958 Buick Wells Fargo

1937 Lincoln Model K V12

1936 Packard V12

1932 Auburn

1932 Cadillac V8

1930 Packard 745 Dietrich

Joe with 1920 Detroit Electric

1959 Chrysler Ghia

1936 Auburn Supercharged Boattail Speedster

1930 Packard Standard Eight

1954 Dodge Granada

1953 Buick Skylark

1957 Corvette

1914 Cadillac Roadster
Sold to Jim Walgreen (of famous Walgreen family).

1933 Auburn 12 Speedster

1931 Packard Dual Cowl Super 8

1955 Corvette

1964/65 Lincoln Continental Town Brougham

1932 Cadillac V8 Cowl Phaeton

Jaguar XK120 Roadster

1955 Cadillac Eldorado Convertible

1958 Studebaker Hawk

1912 Mitchell Touring –taken in front of 5650 Sheridan Road Chicago(1964-1967)

1958 Buick Limited Convertible

1930 Chrysler Model 70 roadster (Joe's first car 1962)

1958 Pontiac Bonneville Fuel Injected Convertible

1967 Corvette Big Block Roadster

1961 Oldsmobile Starfire Convertible

1928 Lincoln Judkin 4-door sedan

1920 Detroit Electric

1953 Cadillac Eldorado convertible with continental kit.

1953 Buick Skylark

1952 Muntz Jet with Cadillac Motor

1915 Model T Town Car

1969 Rambler Scrambler

1938 Cadillac V16 Bowman

1954 Corvette with original authentic see-through plastic top owned by Sid Diamond.

1954 Plymouth Explorer

1954 Buick Landau

1957 Dual Ghia "Shah of Persia" (Iran)

1962 Cadillac Eldorado Convertible

1927 Packard Super 8 Cabriolet