Jan 23, 2013
"We are grateful of Joe Bortz's efforts in keeping a significant piece of GM Motorama's rich heritage alive for future generations to enjoy," said Jeff Mylenek, GM Design. "His passion for finding and restoring classic concept cars -- such as the 1955 LaSalle Roadster that will debut at the Amelia Island Concours -- is appreciated by automotive enthusiasts everywhere."
Jeff Mylenek
Design Manager
GM Global Industrial Design
READ ABOUT JOE'S ESCAPADES AS A BOY IN CORVETTES
When I Was A Boy ..., Old Cars, March 10, 2005. Click here.
The Continuing Saga of When I Was A Boy, Old Cars, March 30, 2006. Click here.
MORE ARTICLES ABOUT JOE
The Story of...The man who pioneered concept-car collecting, Paul Fraser Collectibles, 2010. Click here.
Joe Bortz HotRodHotline.com Click here.
Resurrecting a dream, Monterey Country Herald, August 15, 2008 - Click Here to Read More
Caring Joe Bortz saves our design history, Auto Afficionado, Nov/Dec 2006 - Click Here to Read More
A Collector Gives Concept Cars a Second Life, New York Times, June 25, 2004 - Click Here to Read More
Wild one-offs resurface in Chicago, Classic & Sports Car, October 1, 2004 - Click Here to Read More
Bortz Auto Collection -Carlisle Events, June 18-20, 2004 Click Here to Read More
Eyes on Design, CORVETTE QUARTERLY, Winter 2003 - Click Here to Read More
The Cars GM Didn't Want You To See, FORBES, March 2001 - Click Here to Read More
His Field of dream Cars, Chicago Tribune, 2/11/90 - Click Here to Read More
Collector Saves Rare Concept Vehicles, GM EDGE, August 2003 - Click Here to Read More
Suite Dreams Suite Dreams Chrysler Fabulous Ghias, Car Collector, December 1990 - Click Here to Read More
Collection - Hemmings - 2003 Eyes on Design - July 2004 - Click Here to Read More
In Memory of our dear friend Sid Kahn (12/10/41 - 3/29/06)

Old Cars Weekly - Three Kids, Three Cars January 11, 2007 article about Joe Bortz, Sid Kahn & Al Gartzman and their 1950 Oldsmobile Bubble Top - Click Here to Read More

(NOTE: For added enjoyment I recommend playing "Rocket 88, sung by Bill Haley, said to be the first rock and roll song).
To see more photos of Joe's 1950 Oldsmobile Bubble Top click the link below.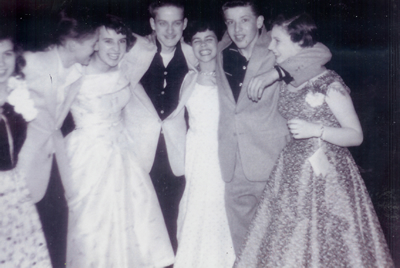 Picture taken approximately 1954.
Joe Bortz second from right and Judy Johnson third from left. Joe had the biggest crush on Judy from the first grade and this picture was taken at their 8th grade prom.
Joe was looking into buying a Cadillac from Rick Raciborski, Chicago, IL (who has a huge collection of Cadillacs and Cadillac parts for those of you looking - 312-607-9417) and Joe got to talking to Rick about where he grew up in Chicago and Rick told Joe that his ex-wife grew up in the same neighborhood and when Joe asked her name, Joe said, "Judy Johnson! I was crazy about her in the first grade!" and so Joe contacted Judy to say hello and she was nice enough to send this old picture.
It is amazing where the car hobby will take you! This particular Cadillac ended up taking Joe on a nice ride back to the past to say hello to his first love Judy!